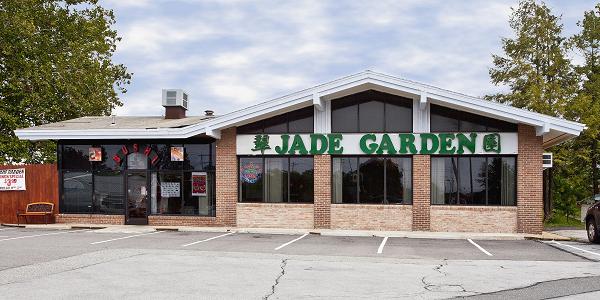 Located in beautiful Shillington, PA, Jade Garden Chinese Restaurant is an all around culinary delight that offers dine-in, take-out, delivery and catering services. Conveniently located, the 2000 square foot restaurant which opened in 2003 attracts foodies from all over town. Its already stellar reputation was further enhanced after it was honored as being one of the Top 100 Chinese Restaurants in America.

Specializing in Szechuan, Hunan and Cantonese cuisines, Jade Garden has been well-received by the locals. However, Sandy Chen, the owner of the restaurant, is always trying to keep Jade Garden up to date with the latest trends. To stay in step with the new healthy dining trend, a brand new sushi bar was added to provide more options to customers in June of this year. At the open sushi bar, customers take delight in watching the chef preparing their orders. Sushi Deluxe and sashimi are just some of the stars on Jade Garden's mouthwatering sushi menu. Items not listed on the menu can be ordered too, provided the ingredients needed to create them are available.

Jade Garden's décor also underwent a change this past June when its carpet was replaced with ceramic tiles. Always polished clean, customers can now feel even more assured about the restaurant's sanitation. Soft and soothing light music is always attractive to those who are tired after work and many find the restaurant to be akin to a temple of relaxation and culinary bliss.

The diverse menu has something for everyone including a number of Americanized Chinese dishes. These dishes include Kung Pao Chicken, Orange Peel Beef, and General Tso's Chicken, just to name a few.

One of Jade Garden's signature dishes is Thailand Prawns. The prawns used are of high quality and 100% fresh. Sautéed with onions and red and green peppers, the tails of the prawns are removed during the cooking process allowing for them to be easily devoured once they reach your table. Then a bit of flavorful Thai spicy sauce is sprinkled on top. Customers often comment about the crispy prawns and the palatable sauce making it one of the more talked about dishes on the menu.

Another dish that has gained a great deal of popularity lately is Shrimp & Scallops in Garlic Sauce, which is prepared with the chef's special garlic sauce. The shrimp is sautéed with scallops and mixed fresh vegetables including broccoli and edible tree fungus resulting in a harmony of taste patrons remember long after leaving the restaurant.

Patrons are quite satisfied with the high quality and reasonable price of each dish. "We are dedicated to making the dining experience of every customer a memorable one," says Chen. What's more, customers with food allergies can request that dishes be adjusted when ordering their meal. Customers on a diet will be amazed to find that there are a host of low calorie selections available such as the Vegetable Combination, Chicken w. Broccoli, and more.

Service is always a key to success when running a restaurant. At Jade Garden, everyone is welcome. Located in a residential area, families often choose to dine there for the great food, excellent service, and family specials. Kids like to dine there too as the waitresses cater to children by giving them treats such as candy or a special dessert. Customers who observe the wait staff will see that they are always busy attending to patrons, refilling water before customers call for it; and taking orders.

As a restaurant which offers take-out and delivery services, Jade Garden's staff pride themselves on their high efficiency. But, even with a focus on speed, quality is never neglected. For take-out, customers need wait only several minutes for each dish and for delivery, orders will arrive at your door around 30 minutes. The telephone rings off the hook during busy hours, but the orders are always written down correctly by the friendly staff. Besides, catering party is welcomed to be held here upon reservation.

Coupons are available in a local magazine, making great deals easy to come by. On holidays, promotions are held to attract more customers looking to enjoy quality Chinese cuisine. During Chinese New Year, patrons are invited to attend a special party held at the restaurant. Chen is glad to see that the patrons keep on coming back even after they have moved away. "It is vital for a restaurant to establish a good relationship with customers, and the key to that is quality food."

Having worked in other restaurants during his first years in America, Chen took advantage of the opportunities given to him by learning to cook and accumulating a wealth of management experience. Eager to prove that he was capable of running a restaurant he tried his hand at running a take-out restaurant a few years before he opened Jade Garden. Never stopping his pursuit of excellence, Chen aspires to run an even larger restaurant in the future. However, he didn't make Jade Garden a success on his own: Chen feels indebted to his wife, who gave up her career as an accountant to help him manage Jade Garden and turn it into what it is today.

Chen is not adept at expressing his emotions, but he is grateful for the support of his customers, and takes pleasure in serving them with excellent Chinese dishes and all kinds of sushi items. He is well aware that more efforts need to be made to further improve each customer's experience, and that customers will be watching as he continues to enhance various elements of the restaurant.
Jade Garden Chinese Restaurant & Sushi Bar
Location: 450 W Lancaster Ave. Shillington, PA 19607
Phone: 610-796-8979
Offers: Dine-in, Take-out, Delivery, Catering, On-line Order
Cuisine: Chinese cuisine, Sushi
Signature Dishes: Kung Pao Chicken, Orange Peel Beef, Sushi Deluxe, Sashimi, Thailand Prawns, Shrimp & Scallops in Garlic Sauce
Capacity: 55
Year of Establishment: 2003
Website: www.jadegardenpa.net