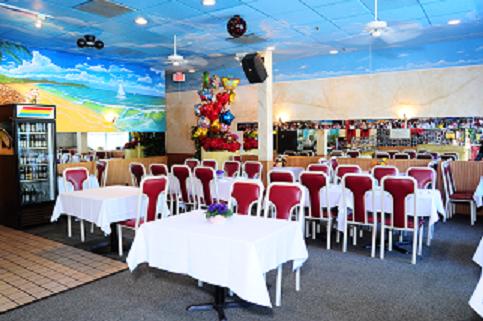 China Star, like a bright star in the sky, shines down on the local dining scene. Business is brisk as those in the neighborhood interested in trying authentic Chinese food have discovered the excellent service and scrumptious food that China Star has to offer.

Stepping into the restaurant, diners will first notice the blue sky and the white clouds painted on the ceiling. Photos of smiling customers adorn the wall, hinting at the remarkable dining experience in store. Jesse Reagan, the manager of China Star, is a friendly woman who always seems to be in a great mood. Known for her culinary expertise, she also has a taste for art and several of the paintings hanging in the restaurant were painted based on her ideas.

China Star has unique business hours, which help cater to those living nearby. It is open from 11:30 am to 9:00 pm and closed from 3 pm to 4 pm Monday to Saturday. On Sundays, the restaurant is open for private parties and gatherings. Owner Jesse Reagan employs a customer-centric management style that allows for a lot of quality interaction between customers and the staff. What's more, Jesse's outgoing personality has endeared her to the locals and she can often be seen socializing with patrons or even singing and dancing on Sundays at the private parties.

A perk of holding private parties at the restaurant is that those holding the party can request China Star's buffet service which is not available at other times. The restaurant is appealing to the general public because it has kept up-to-date with current culinary trends. Instead of serving the fried fare common at other restaurants, China Star features a myriad of steamed and boiled items for its more health conscious patrons. The most popular item on China Star's diverse menu is Crab Stars which is also known as Crab Rangoon. Other customer favorites include Orange Chicken, Chicken w. Broccoli, and Walnut Prawn. For sixteen years, China Star has sourced from the same supplier and with that longevity comes an extra level of confidence about the freshness and quality of the ingredients that go into the restaurant's delectable dishes.

As for the sanitation, Jesse insists that the dinning area, kitchen, and washrooms are kept spotless. Earning the praise of not only customers for the unyielding emphasis on keeping the restaurant clean, China Star has also been recognized by the local health bureau. Comments and suggestions concerning sanitation and other aspects of the restaurant are warmly welcomed and those who wish to provide feedback are encouraged to do so.

Coming to the United States in 1990, Jesse found a job at the post office. One day her friend asked her, "You are so interested in Chinese cuisine. Why don't you try to run a restaurant?" Jesse decided to give it a try and became the manager of China Star when it was established in 1995. Enjoying the support of her customers, she is always happy to speak with them and enjoys being able to satisfy their need for delicious Chinese cuisine.

She also appreciates all that her staff has done and treats them like family. Quite content with where she is now, she believes that running a restaurant is more than just making money. Instead, the thing she enjoys the most is being able to get to know her customers and staff.
China Star
Location: 2101 West College Ave. Santa Rosa, CA 95401
Phone: 707-526-0888
Offers: Dine-in, Take-out
Cuisine: Americanized Chinese cuisine
Signature Dishes: Crab Stars, Walnut Prawn, Orange Chicken, Chicken with Broccoli
Capacity: 68
Year of Establishment: 1995
Website: www.chinastar888.com