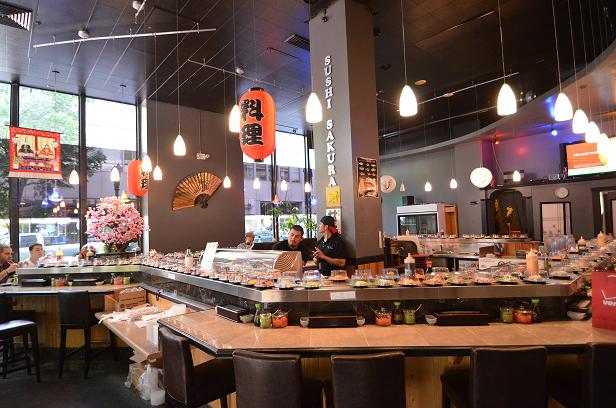 Portland, with over 40 microbreweries, is renowned for having the largest number of microbreweries of any US city. Naturally, The Oregon Brewers Festival, one of the nation's longest-running and best loved craft beer festivals, is held there once a year. In 2007, the city was spotlighted by the New York Times and the Food Network Awards for its burgeoning restaurant scene. Serving both great beer and wonderful food at his restaurants, it is no surprise that Xujian Lu, the owner of Sushi Sakura and New King's Buffet has experienced great success in the City of Roses.

Of course, things weren't always so good for Lu. When he first arrived in the US, he had to find work at a clothing factory in order to make ends meet. Later, after toiling for long hours and saving as much money as he could, he left to open a buffet restaurant with his relatives in Seattle. New to the restaurant business, Lu served as handy man, helping out and observing how the restaurant was managed. Having a good relationship with the suppliers, Lu left the restaurant and took over a seafood company which supplied fresh lobsters, crabs, oysters, and fish from California.

In 2008, Portland witnessed restaurants shutting down one after another due to the economic depression. During the recovery of American economy, many restaurateurs chose to watch how the economy would develop. Nevertheless, Mr. Lu bravely seized upon this opportunity to set up a Japanese food restaurant named Sushi Sakura in 2010. In July of this year, he took another shot and opened a buffet restaurant named New King. Having previous restaurant management experience and also being a food supplier, he was able to buy fresh ingredients at bargain prices. Therefore, price increases for ingredients was not a big concern for him.

Located in the city center, Sushi Sakura welcomes an endless stream of people every day. The restaurant is decorated in a way that deftly showcases Japanese culture in the form of Japanese paintings on the wall, sakura flowers in vases, and wooden fish on the tables. Soft lighting and an efficient layout help calm patrons and enhance the intimacy between friends, couples, and families. Going the extra mile with its service, the eatery's kimono wearing wait staff always make sure to greet everyone who stops by for a meal. "Different from other restaurants, Sushi Sakura aims to not only offer food but also carry on traditional Japanese culinary culture," Lu emphasizes.

With bus stops and universities nearby, Sushi Sakura attracts a lot of students and commuters. Boasting a sushi conveyer belt like many restaurants in Japan, those walking in will often see people sitting at the sushi counter mesmerized at the exquisite sushi creations chugging by. Fish is delivered fresh daily, while the sushi items can be made-to-order or simply plucked off the conveyor belt. Japanese wine is also served in the restaurant to help round out the experience. Moreover, from 3 pm. to 6 pm., drinks are only $1.75.

Experiencing phenomenal success with Sushi Sakura, Mr. Lu rolled up his sleeves and opened New King Buffet right smack in the middle of the economic crisis. Located at a busy intersection, New King has a bar complete with slot machines inside and also a parking lot so that customers won't have to hunt for a spot on the street. The buffet also has a banquet room, where patrons can hold all sorts of events. Those dining at New King will be happy to know that they can enjoy the exquisite sushi there too as the chef was professionally trained at Sushi Sakura. Heavy on seafood, New King outshines other restaurants by offering fresh California lobster. The buffet's bar is no slouch either as it provides an almost endless amount of spirits, wines, beers and even cocktails mixed by master bartenders.

Freshness is essential if one wants to prepare tasty food for their customers. Lu knows this and has devoted himself to making sure all the ingredients used at both of his restaurants are as fresh as possible and of the highest quality. Unlike some restaurants that use frozen seafood, New King sticks to fresh seafood owing to Lu's seafood supplier connections. At Sushi Sakura, a taste of the sushi and sashimi is enough to bring a smile to the face of even the most jaded foodie. Serving dishes with generous portions at affordable prices, Lu has leveraged his knowledge of the industry to offer quality Japanese food to his customers and in the process has gained excellent word of mouth as people begin to tell their friends about the allure of Sushi Sakura. His expertise in the industry has also benefited New King, as it too offers a plethora of seafood inspirations.

Mr. Lu gives his staff a lot of freedom in their work while also laying out firm guidelines to draw inspiration from. This has endeared him to his employees and many plan to stay at the restaurant for a long time. Wait staff can make recommendations to patrons and even have the right to occasionally offer free dishes and discounts. Operating with Lu's full trust, staff members are motivated, and do their best to serving customers. Those who really excel are privy to occasional bonuses.

Keeping the idea of "seafood beats everything" in mind, Lu devotes a lot of energy into the seafood items on the menu believing that superior quality in this domain will take the restaurant far in terms of accolades and increased business. Considering whether or not to open future locations, Lu might open another branch of New King Buffet in the near future. Having been in the business for six years, Lu has been able to network with those in the seafood industry, enabling him to enjoy extra discounts and pass the savings onto his customers.
Sushi Sakura
Location: 506 SW 6th Ave., Portland, OR 97204
Phone: 503-206-8663
Offers: Dine-in, Take-out
Cuisine: Sushi
Signature Dishes: California Roll, Mango Roll, Dragon Roll, Salmon Roll
Capacity: 45
Year of Establishment: 2010
Website: www.sushisakurapdx.com