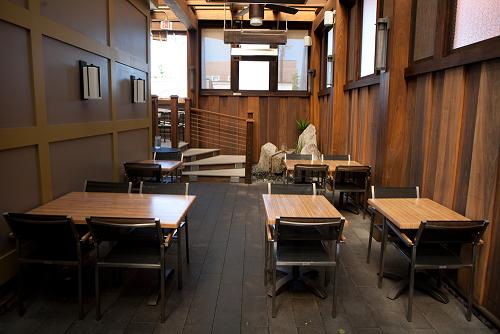 Located in the heart of New England, and a leader of advanced manufacturing, Worcester was the perfect place to open Baba Sushi. Offering the kind of selections that were not available at other nearby restaurants, Baba quickly became the premier choice for customers seeking superb service, world-class Japanese food, and quaint ambience immediately after opening in 2007.

Baba is presided over by the well-known master chef, Wilson Wang, who is also the owner of the restaurant. Wang has been honored as the "Best Chef of Worcester" from 2007 to 2011, five years in a row. "I've always been passionate about making sushi, and have never treated it like a job. I just love it." With his reputation having spread far and wide, he is often invited to cook for weddings and parties. He is also a sushi teacher, teaching those who are interested in sushi the techniques required to prepare truly mouthwatering rolls.

Stepping into Baba, you will be astonished by the trendy East meets West decor and also its small size. However, due to its size, the whole dining area has a refreshingly intimate and cozy feel. The quaint and elegant décor which was designed by an Italian designer is based on Wang's vision for the interior. But when you step further into it, you will be surprised to find that there is a covered patio disguised as a tatami room. Despite its small size, there is a bar serving a wide range of sake, cocktails, and both domestic and imported beer, which are a perfect complement to the meal. Eclectic music is played to relax customers and ready them for their meals. The cute and romantic ambience makes it an adorable place for dates.

If you are seeking traditional or French-style Japanese food, your expectations will surely be exceeded when you dine at Baba. All the items served in Baba are unique without being too exotic for the palate. "I'm dedicated to creating a world-class dining experience for customers. I make sushi according to my knowledge of customers' tastes instead of following any trends," Wang explains, adding, "it has to be a flexible experience—one that really opens up new doors without forgetting the path already taken."

At Baba, patrons find that it is quite difficult to think of a favorite sushi item, as all the sushi items are frequently ordered. According to Wilson, sushi made with Alaskan king crab and banana is immensely popular among patrons. Avocado Crab Salad and Baba Oyster Shooter, for example, are must-try items that customers can't seem to get enough of no matter how often they order them.

Avocado Crab Salad is a combo of avocado, Alaskan king crabmeat, and sweet and miso dressing, which brings joy to the customers' palates. Ingredients used are of superior quality. The crabmeat is the king crab's shoulder meat, which is considered to be the tastiest area.

Baba Oyster Shooter, made of oyster and quail egg, is served in a glass, which looks similar to the oyster shots available at other area seafood restaurants. New customers will be wondering whether this is sushi or not, as it does not quite look like traditional sushi. But they will be surprised to know that it is a sushi item.

Another one of Baba's house specialties is Tiger Eye, which is made of tuna, salmon and avocado. Customers find that Baba's version of this widely offered dish has an extra flair of taste that has convinced many customers that Wang has a secret recipe, but he says, "I don't have any so-called recipes; I just have a solid knowledge of what customers truly want."

The superior flavor and quality of the sushi items at Baba is largely due to the quality ingredients, some of which are organic. In Baba, customers feel free to order something not on the menu, and their requirements will definitely be satisfied. But concerned with customers' health, Wang often advices customers to order foods low in calories.

Wang believes that a restaurant should not only cater to the tastes of its customers, but also help shape them. He even quotes McDonalds as an example, which flourishes in China. It is no exaggeration to say that he has successfully shaped the tastes of the locals, opening them to a wider spectrum of flavors previously unexplored. Many patrons have become hardcore fans of Baba Sushi. The peculiar tastes and textures of the sushi at Baba rival even the upscale Japanese restaurants found in bigger cities.

Not only is Wang a well-known and outstanding chef, but he is also a successful businessman. He likes to read biographies, especially those about successful entrepreneurs, such as Kiichiro Toyoda, Bill Gates, and Soichiro Honda, among others. He has gotten quite a lot of inspiration from these successful figures and is quite good at management because of this. Patrons like to dine-in at Baba, partly because the service is attentive, without being intrusive. Wang and his staff are friends with many patrons, and many feel as if they have just returned home when stepping into the restaurant.

Sanitation is always maintained to a high standard. Many customers will check to see whether a restaurant is clean or not by looking at its kitchen and bathroom. Baba's patrons will find that every nook and cranny of both areas is sparkling clean. "We clean the bathroom and kitchen several times a day, just to make sure that diners have a pleasant and reassuring dining experience," boasts Wang.

Arriving in America back in 1995, Wang decided to study information technology, but even then, he never truly abandoned his interest in running a restaurant. When he got the opportunity, he seized it without any hesitation. On summarizing the experience of running a restaurant, Wang explains that he puts the greatest emphasis on quality but even then, no restaurant is able to completely satisfy every single customer as customers differ in their tastes. "What I need to do is to maintain the quality and try my best to satisfy the different customers." Wang says, "I'm planning to open another branch which will be larger in order to cater to the demands of more foodies."

Baba Sushi is like a magnet that attracts people from all walks of life to enjoy the pleasure brought by Wang's exquisite creations. Always looking to build on success, Wang promises his patrons that he will continue to add new, refreshing sushi items to the menu.
Baba Sushi
Location: 309 Park Ave., Worcester, MA 01609
Phone: 508-752-8822
Offers: Dine-in
Cuisine: Japanese cuisine, Sushi, Seafood
Signature Dishes: Tiger Eye, Baba Oyster Shooter, Avocado Crab Salad, Lion King Roll
Capacity: 55
Year of Establishment: 2007
Website: www. babasushi.com