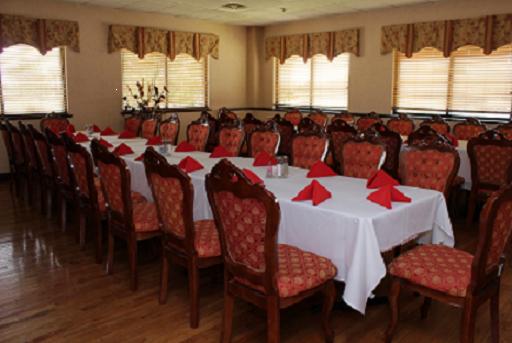 Located in Evansville, IN, MA.T. 888 is an 8000 square foot upscale Chinese restaurant that draws a wide range of customers. Boasting an elegant atmosphere, the restaurant which opened in 2007, is geared to those who want to enjoy Asian cuisine while also being able to relax in a soothing environment. The customer base is about as diverse as it gets, but one thing that all the customers have in common is their focus on eating healthy. MA.T.888 is able to meet their demands and even more due to the focus on providing a sophisticated dining experience.
The menu features a bevy of healthy mouthwatering dishes made just the way customers expect. "All dishes are low in oil, free of MSG, and made with the freshest ingredients possible. Portions are generous so people definitely go home full," says owner, Ling Ma. Freshness is essential at MA.T. 888, especially because of the large number of seafood dishes on the menu. Fresh food deliveries arrive daily instead of weekly, which is common at other restaurants.
Signature dishes include Walnut Shrimp, Lemon Grass Fish, Cantonese Style Lobster, Orange Beef and Chicken Lettuce Wrap. The Walnut Shrimp is a standard dish though; MA.T.'s version is made of golden breaded shrimp surrounded by a savory white walnut sauce which makes the dish a sweet and delicious seafood adventure.
Lemon Grass Fish is added with a touch of Thai flavor. The pan-seared golden brown spices, a dash of sesame oil and lemon grass on the fish deliver a pungent yet tasty touch. Cantonese Style Lobster is one of the exciting creations and a crowd pleaser. The lobster tail is removed from the shell and cooked to perfection in ginger onion white sauce. Then it is placed back in the shell and marinated in light Cantonese dressing. It can be prepared spicy or regular.
Other best sellers include Orange Beef and Chicken Lettuce Wrap. Orange Beef is made of the breaded beef slices drenched in a tangy orange sauce, and matched with bits of orange pieces, which is a perfect balance of sweet and sour. The Chicken Lettuce Wrap is both a healthy and delicious alternative for someone with special concern about health. The chef chooses fresh head iceberg lettuce leaves which are ready to fill with a flavorful sautéed mixture of scallions, ginger, garlic, house sauce, and combined with seasoned pan-seared chicken.
The Ma's know that presentation is just as essential as presentation. All dishes come with hand-carved vegetable art, made right in the kitchen—consisting of carrot roses, butterflies-lotus flowers and more.
Besides an outstanding menu, MA.T. 888 also has unique advantages over the competition. In addition to a beautifully decorated dining room that seats 120, they also offer a VIP room that seats up to 18 at an impressive cherry inlaid round dining room table complete with lazy susan, perfect for meals served family style. The VIP room offers wonderful amenities, including a private bathroom, direct access to the kitchen, and a lounge area for pre dinner cocktails or dessert, complete with a 40 inch television. The décor in the room is exquisite, whether hosting a family celebration, or conducting an important business meeting, this room has it all. Those eating at the restaurant for the first time can feel the energy, making this a truly great dining destination. As one online reviewer writes, "The food here is great and the interior is unbeatable. Whenever I want to eat delicious Asian cuisine in a relaxing environment, I make a beeline for MA.T. 888. "
Parties are a big part of MA.T. 888's success. Because of their attention to detail, friendly service and Ling's personal touch, many locals look to the restaurant to host their private events. The Ma's have perfected the art of entertaining. They know that every detail from the presentation of the meals and drinks to how the room is decorated are all part of a great dining experience; and their customers are grateful for every detail. They realize that they can't always stick to the formula. Once, the restaurant hosted a last minute party with 120 people. In order to get the room ready in time, 30 people, including 10 relatives helped decorate and set up. The customer was very grateful for the accommodations and sent a note of appreciation to the Ma's after the event expressing their gratitude. "No matter how big or small the event, I always do my best to make sure it goes smoothly," boasts Ling Ma.
The Ma family has always been conscious that every customer should be treated like a VIP. This means always providing customers with fresh delicious entrées, generous portions and fair prices. "The concept of service begins when the ingredients are delivered to the restaurant. It continues on to providing them with a calming environment free of too many distractions." Owners the Ma's say. They are especially aware of new dining trends with special attention to healthy dining. In response, every dish prepared at MA.T. 888 is free of MSG and low in oil and slat.
Don Ma arrived in the US in 1983 and immediately entered the restaurant industry. He has ample experience running restaurants, including operating three buffet restaurants. While he was successful, he knew he wanted more out of the dining experience and felt he could give his customers more. Ling was no stranger to the industry when she arrived in America in 1991, as she had experience working in the food industry at an early age. Don and Ling later met and married in 1994, sharing a love for each other and a common love for the industry. They began working together, Don creating and preparing dishes in the kitchen and Ling taking care of the customers. In 2007, MA.T. 888 opened its doors, and Don's dream of giving his customers an upscale full service dining experience finally came true.
Don feels very lucky not only for the help of his wife but also his many other relatives.
"Without them the restaurant wouldn't be what it is today." Don says. Don's mother prepares the food on a daily basis in the back of the house. The Ma's have surrounded themselves with a great team. Their customer base has grown over the years with many patrons, regularly sharing their family celebrations and holidays at the restaurant. "I wouldn't have it any other way." Don says.
MA.T. 888 China Bistro has also been a great community partner for the Greater Evansville Affiliate of Susan G. Komen for the Cure ? for the past three years. Their premier fundraising event is historically Race for the Cure? and they help by being a food sponsor in the Komen VIP area.
MA.T. 888 China Bistro
Location: 5636 Vogel Road, Evansville, IN 47715
Phone: 812-475-2888
Offers: Dine-in, Take-out and Catering
Cuisine: Cantonese, Szechuan and Mandarin
Signature Dishes: Walnut Shrimp, Lemon Grass Fish, Chicken Lettuce Wrap, Cantonese Style Lobster
Year of Establishment: 2007
Website: www.MaT888ChinaBistro.com